"To sing the truth of your heart is powerful medicine" ~Maniko
How did seven women, all who considered themselves non-singers, move from fear of expressing their voice to recording an album and performing a live concert?  Maniko, founder of Temple of Song, shares their music, personal stories and the techniques we can all use to self-express through song.
About the Event:
All voices welcome!   Join us in song for an inspiring afternoon of music, magic, and divine mischief in the Temple of Song nestled in the Sierra Foothills 3 miles from Nevada City.  Maniko and 7 other women will sing original songs from the newly released "Gift of Truth – Medicine Voice" album along with chants and mantra's for all to sing. These are songs that have been born through the healing, transformation and creativity that arise from a meditative, loving consciousness during Maniko's annual Song, Silence & Soul Sanctuary Retreats.
Medicine Voice Performers: Maniko, Carol Levow, Garima Tammra Harrison, Karishma Darby, Lisa Wade, Michelle Malaika Black, Natana Spohler, Urmila Marcy Chamberlin.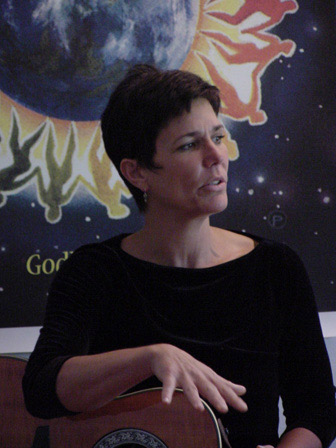 About Maniko:
Maniko has been writing songs, performing and singing in a diverse array of venues for over 35 years. She has produced and recorded three CDs of her original material and worked on a variety of other recording projects. Maniko has extensive professional and experiential training in expressive arts therapy, movement awareness and integration, meditative disciplines as well as dance, breath and voice as vehicles for bridging the worlds of developing consciousness, creativity, personal integration and authentic self-expression. Along with private sessions, she performs live in concert and facilitates workshops on the Dimensions of Voice & Self-Expression, Creativity, Transformational & Ecstatic Singing, Songwriting, Mystic Practices and Meditation Retreats in the US, Australia, Europe and Asia. http://www.templeofsong.com
About Impact a Village, Inc.:
Impact a Village is a 501(c)3 non-profit supporting projects that help improve education and well-being in communities around the world. Current projects include the Malek Primary School in South Sudan, The Khmer Hands School in Cambodia, and education projects in the Amazon region of Peru. Impact a Village is a proud sponsor of the Medicine Voice project which promotes healing through meditation and song. http://www.ImpactAVillage.org
Gift of Truth – Medicine Voice CD available at CD Baby.
http://www.cdbaby.com/cd/medicinevoice