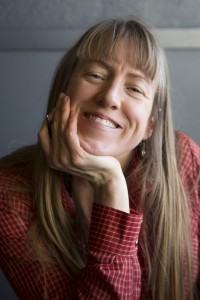 "My motivations seem to be focused around not "what I do" but more the way in which I do it."~Karel Hendee
Karel is an artist who loves plants, ecology, animals, and banjos. With her twin, being the youngest of seven kids, she was raised on a "back-to-the-land" farm in the 1970's where she learned to milk cows, plant seeds, pluck chickens, and shovel manure. Her earthy childhood set the stage for her life-long love of gardening, growing food, seasonal living, and all things furry and feathery.
With a bachelor's degree in Landscape Architecture, she further developed her love of art, biology, and our relationship with nature. Experimenting with silk-painting in her mid-twenties, she found that the flowing liquid dyes and vibrant colors liberated her expression. She later added other fabrics and fibers through quilting and applique, giving her the experience of being both a painter and a sculptor. As an adult living in Oregon, Alaska, Minnesota, and now Northern California she has become intimately familiar with the native plants of those regions and also the sustainable farming practices. She has built many environmental land-use models to help raise awareness of sustainable land-use practices and water quality protection. She has served as a naturalist and environmental educator in camps and at nature centers, and conducted eco-psychology presentations and experiences. Currently, her favorite form of environmental activism is creating beautiful, uplifting, and meaningful art.
Always passionate about growing food and and supporting local farms, Karel tries to be an artistic voice for sustainable agriculture. In 2009, she conducted interviews through-out the growing season of several Nevada County farms which resulted in an exhibit called "We Can Grow It" reflecting the qualities of each farm and the aspirations of the farmers and interns. She is currently working on a series of garden goddesses , guardians and healers of our sacred food and of mother earth.
Karel is also a musician and a dancer, and finds great joy in playing and performing Americana and old-time music. Creating music is a great journey of listening, and melding with others to create something greater. All of life is rhythmic, and being an artist and musician is a rich and expansive way to experience that flow, melody, and harmony. Karel now lives in Northern California with her co-creative partner and husband, and their large veggie garden, fruit trees, and sweet dog and cat.   
Click here to learn more about Karel
Karel shares her beauty and passion through her incredible silk art. Her latest work is in gratitude to Mother Earth and the feminine powers at work in the garden.  Her new show kicks off next week!
Silk Painted Art Quilts by Karel K.  Hendee and Photography by her husband Jonathan Lyerly
The Organic Grill, 135 Argall Way, Nevada City
September 17- November 15th
Reception October 10th at 5-6:30-pm
What is your passion or purpose you are being called to bring into action right now?
When I ask my heart that question, what seems to arise is a quest for sincerity and openness.  For the past few monthsI have been in an introspective phase in my life, and my motivations seem to be focused around not "what I do" but more "the way in which I do it."   Just recently, I have received deep inner inspiration to do a series of paintings about garden goddesses, honoring our sacred feminine energies and mother earth and that is weaving together my passion for nature and farming.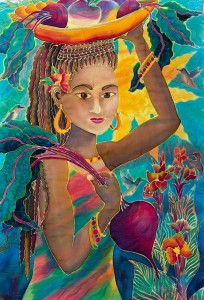 What were the motivating factors or defining moments that inspired you to get involved and share your passion?
I grew up on a small "back to the land" farm in the 1970's.  Both of my parents grew up with the rural way of life, and wanted to instill those values into their family.  We tended a large vegetable garden, milked cows, and raised our own meats in a very humane way.   In contrast, I lived in the Midwest as a young adult for 12 years and was involved in a land-use planning project.  There I witnessed the full spectrum of agriculture, from a diverse organic farm to the largest industrial scale mono-culture farm.  It became very clear to me what my values were and what seemed best for the land, local communities, and long-term sustainability.
What does the "New American Dream" look like to you and how is your passion playing a part in this.
I can only hope that the "New American Dream" looks more like Thomas Berry's "Dream of the Earth:"
"Perhaps a new revelatory experience is taking place, an experience wherein human consciousness awakens to the grandeur and sacred quality of the earth process."
On the outer level, I see America and the whole world with thriving local food systems and diverse sustainable farms and land-use practices.  People building a sacred connection to our land, food, seasons, and communities.  There is increased sharing of resources, communal living, and cooperative businesses.   People are competing less and collaborating more in applying creative solutions to resource use, transportation, health-care, education, and social programs in new and effective ways.
In the inner realm, the New America directs priorities toward inner peace and quality of life focused around sacred and meaningful experiences.   Americans relax more, sleep better, honor contemplative time, and enjoy socializing with family and friends.   People everywhere are being creative in ways that help make the world a better place and also makes them happy, healthy, and fulfilled.
When I am creating art, I am reliving an experience I had in nature and in my garden, and wanting to share that inspiration with others.   Through my own unique expression, my love and appreciation for nature expands and that feels deeply important to my soul.
In your hero's journey, what is one of your greatest achievements and what challenges did you overcome in order to get there.  
One of the hardest things for me in the past has been to speak up authentically in the moment when something arises in me that needs to be voiced.  Perhaps that is why I have become an artist, because I can express myself more easily through art.  I also love to dance for that reason, but learning to use my voice has been a very challenging and deeply rewarding journey.  The voice is such an intimate part of who we are and so deeply connected to our essence.  It is an instrument, and needs practice and patience like all of them.   I sing a lot at home and I practice sounding exercises I learned from a vocal teacher.  I just joined an all-girl band and being part of this group and singing harmonies together has been a huge help and a lot of fun.  When we harmonize and hit that sweet blend, we all get the chills.  I have just begun this journey but it seems really essential to helping me grow and emerge as a woman and an artist at this stage in my life.
What is your favorite quote you refer to when you seek inspiration or hope and why?  
The passage in the book "Letters to a Young Poet" by Rainer Maria Rilke, "…to be patient toward all that is unsolved in your heart.  Learn to love the questions themselves…"expresses wisdom that inspires and comforts me.
Why is the work you are doing so important for Everyday Women?
I hope through my art I can help us remember and celebrate our strengths, our beauty, our gifts, and nurture our inner lives as well.   That is so important.  We need to replenish our souls and return to the source of our power, each woman in her own special way.   I have learned that there are lots of different ways to go about following your passion and your bliss, and it often involves risk and a whole lot of faith.  What seems important to me is that we get in touch with our dharma, and that requires deep inner listening and attunement.  Having a regular meditation practice has really helped me get in touch with what is wanting to be expressed through me and where my deepest joy can be found.   In addition to meditation, my physical practice of yoga and Nia has helped me understand "dynamic ease."  By learning to be simultaneously dynamically willing and relaxed, I find I am more effective, productive, and feel supported by a constant flow of energy and inspiration.   It helps me bring out the best in me.
How can we support the great work you are doing?  
I feel most supported when people share with me their stories about how my artwork has touched them, or how they feel inspired.  I love hearing what people see in my artwork and their interpretation.  People have shared beautiful and intimate stories about butterflies and birds, and other symbols within my artwork.  I cherish all of these stories dearly and they help me feel the universal essence and interconnection of all life. 
What is your message to women around the world?  
One of my most favorite affirmations is a song by Snatam Kaur called "You are becoming the song of your heart."   A beautiful and captivating song has many notes, fluctuates and changes rhythm, and has moments of tension and resolve.  To open the heart and allow this melody to flow seems to require immense courage, faith, and a lot of surrender.  What I am finding is that the world is welcoming my song, and I can hear everyone singing along in their own way in this great symphony of life.  Let us open our hearts.