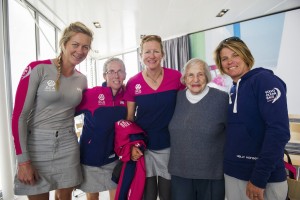 When Shirley Payne suggested that she would like to take a sail little did she know that the organization Wish of a Lifetime would not only grant her wish but partner her with one of the strongest and most celebrated female sailing teams in the world.  Team SCA just completed one of the most rigorous sailing races in the world and this inspiring 90 year old was able to sail with them during part of their journey.
Elisa Parker speaks with Ms. Payne about her favorite moment and what she would tell her 20 year old self now that she has more years and wisdom under her belt.
Shirley met and sailed with Team SCA, an all-women's professional sailing team competing in the around-the-world Volvo Ocean Race that pulled into port in Newport for its U.S. stopover, midway through the race. When Shirley heard they were coming to town, she knew she had to go! Newport Harbor was buzzing with activity, as all seven teams stopped there for the VOR's only U.S. stopover.
Shirley enjoyed lunch with the women of Team SCA at Newport's Race Village and then boarded a professional racing sailboat with members of the team, sailing around Newport Harbor and watch the in-port competitive ProAm race.
Wish of a Lifetime is a U.S.-based non-profit started in 2008 by two-time Olympic skier Jeremy Bloom that honors and celebrates the seniors within our community by renewing their passions and fulfilling lifelong dreams. To fulfill Shirley's wish, Wish of a Lifetime partnered with Philadelphia-based hygiene company SCA and Brookdale Senior Living, the assisted living community that Shirley is a resident of.  SCA is the official sponsor of Team SCA.
Shirley's passion for sailing began as a child, and was one she passed on to her three sons, 10 grandchildren and numerous great grandchildren. As the sole woman in an all-male household, Shirley led a local Mariner Girl Scout Troop and relished the chance to expose young girls to the joys of sailing. Once her sons were grown, Shirley finished her degree and embarked on a 25 year career as a librarian. She has always loved exposing younger generations to a world of knowledge – whether in the library or on the water.
This summer, two additional senior women with a similar commitment to helping others and passion for adventure, will see their wishes fulfilled through this partnership.
To learn more about the organization or to help fulfill a senior's Wish visit www.seniorwish.org
Click here to listen to Elisa Parker's interview with Team SCA.