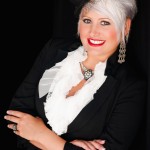 Mara Hoover has been an entrepreneur from as far back as she can remember, she started her first business venture with her father at five years old. Since then, she has become a successful and savvy business professional.
Several years ago during the recession Mara watched her family's 7 million dollar business almost come to an end.  It was then that she recognized the value of financial freedom and the importance of understanding financial management and empowerment.  She set out to teach other women how to not only be financially free but free in other aspects of our lives so we can unleash our true potential and make a difference in the world.

As an Executive Vice President at Five Rings Financial, Mara is passionate about using her skills and talents to educate and empower her clients, especially women, to achieve financial success and independence. She works with a wide variety of clients: from business owners to business executives; from young families to successful singles. She enjoys creating plans that help them reach their financial goals. Mara is a graduate of Pepperdine University, a published author of the book series My Grumpy Husband, a fluent Spanish speaker, an active Soroptimist and avid networker in her community.
See Jane Do is thrilled to offer a teleseries to Discover your financial freedom with Mara Hoover of 5 Rings Financial. Mara shares tips and tools to tap into your Financial FemmePowerment. Learn how to speak the language of success!
June 26th & July 3rd
5:00-6:00PM PST: Live Tele-Class
Session 1
Why Financial FemmePowerment?
Discovering your money story
Start building a new relationship with money by changing what you say
Why are you seeking money, what will it help you do/be/accomplish
Create a Money Mantra
See your mantra as your destiny
Speak the language of success
Find a money mentor
Session 2
Your Gratitude List
Knowing Your Self Worth
Creating your Financial Goal- Think Big!
Your Personal Power Statement & Financial Attitudes
Money Matters