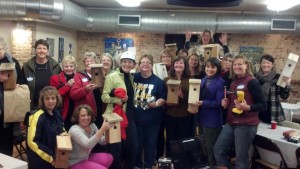 Organizations collaborate to do more for the community
Organizations and individuals instinctively know that we have a much better chance of coming up with effective solutions to real world problems if we work together, rather than apart. Leveraging collective resources can maximize impact, especially when times are tough. We can all agree that we wish politicians would collaborate to solve our nation's problems. We can't change them, instead we can demonstrate how the best collaborations work. But first, obstacles to working together need to be overcome.
Nevada County Habitat and See Jane Do would like to announce a partnership that will help bring about successful and beneficial collaborations for others seeking to leverage resources and relationships for the greater good. These 2 organizations created a successful alliance 2 years ago and found a recipe for success that is ready to be shared and replicated. In their work together, including other individuals and organizations, they have conquered the obstacles and have succeeded in completing several successful projects that benefit the community, the people and organizations involved, and served to further both of their missions…. And they had lots of fun doing it!
You are invited to join them on April 18, 2013 as they kick off a series of collaborative efforts, including short term project and learning modules that will help others achieve the same success. "We have a proven method of awakening connections that we want to share. This event will light a spark that will ignite many more productive partnerships in this community we all love" says Elisa Parker, CEO and Founder of See Jane Do.
"We were blown away by how this collective effort connected over 400 people from all over the country to a common cause. This alliance has resulted in growing our donor and volunteer database by 18% in a 3 month timeframe. These astounding results have inspired us to collaborate more than ever," shared Debbie Arakel, Executive Director of Nevada County Habitat for Humanity.
The Soiree is happening at the Center for the Arts on April 18th at 6:30pm. Admission is free. Individuals and organizations should attend. Why?
We all have big dreams and ideas that we don't move forward because alone they seem too daunting – we never have to go it alone.

Learn simple steps to follow that make partnering fun and easy.

Be a part of a short collaboration that will demonstrate the ingredients of success

Make connections with people or organizations that care about what inspires them

Build a blueprint for forming successful alliances

Use tools and technology that increase engagement success

Inspire creative collaborations. Spoiler alert – you might find them where you least expect!

The answers are in the conversation – join the conversation.

Be a part of a hands-on collaborative activity – Create and enjoy a meal together with the help of Susan Gouveia of Garden Goddesses.
Whether you are a person looking for connections and involvement, or an organization wanting to create flourishing partnerships, you will want to come, have fun, and learn how joining forces can change the world!
About Nevada County Habitat for Humanity
Nevada County Habitat for Humanity (NCHFH) was organized in mid 1995 by various community, government and church members to address the growing and recognized need for affordable housing in Nevada County. In the past years, NCHFH has grown from a handful of concerned citizens to a grass roots organization with a 12 member governing Board of Directors, a roster of 25 Standing Committee Members, over 60 committed volunteers and 500 loyal financial donors, all committed to achieving our mission of providing simple and decent affordable homes for hard-working local families. To date NCHFH has completed 23 homes across Nevada County providing affordable homeownership for 31 adults and 66 children of qualified families. NCHFH broke ground in the Fall of 2010 on a 16-home "Heritage Oaks" development their most ambitious project to date, and have completed 4 homes of the 16. For more information, visit www.nchabitat.org
About See Jane Do
See Jane Do is a social change multimedia organization that empowers everyday women to be a hero in their own lives. We redefine media for women and the power of story to create positive change. Real Women. Real Solutions. See Jane Do also presents the annual Passion Into Action Women's Conference, which has featured renowned speakers such as Martha Beck, Holly Near, Frances Moore Lappe', Jensine Larsen of World Pulse, Bioneers co-founder and president Nina Simons, best-selling author and women's activists Gloria Feldt, Jean Shinoda Bolen, Sista Monica, Osprey Orielle Lake, Kathy LeMay, Tiffany Dufu and former US Ambassador Linda Tarr-Whelan. For more information, visit: www.seejanedo.com