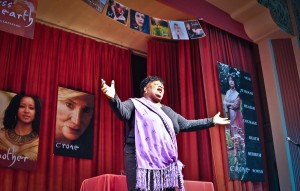 Sista Monica Parker, known as the "Lioness of the Blues" and former Passion into Action presenter is no stranger to overcoming great challenges.  In fact her song, "All Things Are Possible" was inspired by her battle with an often fatal and rare form of cancer, Synovial Sarcoma in 2002.  I recently learned that Sista is now facing a new mountain; she was diagnosed with Stage IV Lung Cancer.   You can connect with Sista via http://www.caringbridge.org/visit/sistamonicaparker/journal and send her lots of love and light.  She recently shared the following on Caring Bridge and Facebook.  
Love And Cancer Correlation
By Sista Monica Parker
Beloved,
As much as I can't stand this new cancer battle, I am compelled to find a principle or thought that makes me go Hum! Ten years ago I was diagnosed with Synovial Sarcoma under my right arm. I was given 3 months to live 10 years ago. I serve a d worship a true and living God and he afford me that opportunity to sing, write, perform around the world to Holland, Spain, Mexico, Italy, Greece, and London UK, Paris, France and the south of that fine country. As a recording artist, I gave testimony to thousands about the goodness and Grace of my Lord and Savior Jesus Christ. I am not a shame. I never seek to recruit people to be Christians, but to be better humans and to share fruits of the spirit in areas of kindness. Before Synovial Sarcoma 10 years ago, I sought to please the masses. I was often nervous to sing in smaller audiences because of the emotional component. Then after that battle, I realized the value of impacting 1 person at a time in a positive manner. Then clubs, weddings, and private parties became the expansion of my vocal presence.
Love – what is the correlation? Well.. I was walking around the house and hating this new diagnoses of stage IV Lung Cancer in my right lung that is inoperable. I have been blessed that to have loved a couple good times in my life. Loved hard and long, courted and trusted with my heart. I became vulnerable and bold enough to stand through the adjustments of co-habitation, prosperity and lack. With all of its beautiful, love leaves its mark. As does cancer. 
Cancer – what is the correlation? Well.. it is scary, calls for questioning, introspection, surrender and trusting at a new level. One would only hope though to never experience it, or at least only once in a life time. I am so pissed to have to experience it once again at an even more severe level.
This is not too much for God. It will require that I fortify my faith, glean as much as possible about the word and truth. I will take time to meditate, pray, sing, speak and endure this new challenge. I will need your love, prayers and support.
When you love you let go and surrender. When you have this illness, you are a bit out of balance both spiritually and emotionally. So I seek to get balance in these areas. God's will I will heal, recover and use my testimony as a way in which to impact others in a favorable way. "And if I die before I wake, I pray the Lord my soul He take".
No time to proof read or edit. company is knocking at my door.
God knows my heart.
love
Sista Monica
When you need a pick me up.  When you are ready to be seen and heard.  When you are ready to be moved, watch this video featuring singer and song writer, Sista Monica Parker from the See Jane Do Media Lounge.  Sista Monica shares her greatest lesson from Oprah, the power of putting your passion into action and her "go to" songs when she wants to uplift her spirits.  In this short video she sings from her heart and moves everyone to tears…of joy.  
We love you Sista and are sending you much love and healing light.