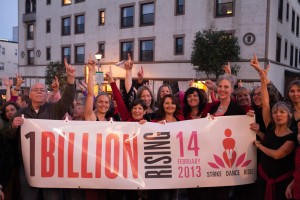 Elisa Parker of See Jane Do, Kimberly D'Urso of Citizens for Choice and Skyler Myers of Women SAVVY have been selected as delegates for the 57th session of the
United Nations Commission on the Status of Women (CSW)
March 4
th
-15
th
, 2013.  The theme for the session this year is elimination and prevention of all forms of violence against women and girls.
Parker, D'Urso and Myers were amongst the seven co-organizers for the One Billion Rising Nevada County event which attracted over 1,000 participants.  "One Billion Rising exceeded our expectations," said Elisa Parker.  "It was an incredible event to unite our community around demanding an end to violence against women and girls.  But what happens the day after a global event of this magnitude?  In addition to supporting local women-supported organizations such as DVSAC, Women SAVVY and Women of Worth we want to continue the momentum by exploring global solutions that can be implemented locally.  Attending the UN CSW is a great next step to connecting with women world-wide around this issue."
The UN CSW is dedicated exclusively to gender equality and advancement of women.  Every year women from around the world including representatives of Member States gather at the United Nations Headquarters in New York City to evaluate progress on gender equality, identify challenges, set global standards and formulate concrete policies to promote gender equality and women's empowerment worldwide. 
While attending these noteworthy events, See Jane Do will capture interviews and meet with partners to develop resources & programming to help their social change organization grow.  A special video segment from New York will be produced and broadcast on
http://www.seejanedo.com/
and heard on See Jane Do's Radio Show on KVMR.
As a follow up to One Billion Rising Nevada County,  See Jane Do is hosting a Soiree into Action fundraiser on Wednesday, February 20th, 2013 at The Stonehouse Old Brewery from 6-9PM  that will focus on Action Awareness, personal safety and empowerment led by Lila Reyna,  award winning author and Third-Degree Black Belt.
Lila founded Action
Awareness Training
thirteen years ago on the principle that true self-defense is the balance of mind awareness, body confidence, and strength of spirit. With crime and threat occurring ubiquitously over the map at all socioeconomic levels; she developed a series of personal safety and empowerment workshops to reach women, teens, and children. She also has an insider view of the condition that domestic abuse victims face and the awareness to help them live beyond survival and thrive.
Lila has been teaching martial arts for the past sixteen years where she co-owns a full-time school, Gold Country Kuk Sool Won, with her husband.
In addition to Lila Reyna's hands-on session the See Jane Do event also includes a silent auction, networking and soup and salad.  Funds raised from the event will support their participation in the UN CSW as representatives of Nevada County.    
See Jane Do is honored to represent Nevada County and bring the pioneering spirit to New York.  For more information about these events, membership, or sponsorship visit
www.seejanedo.com
or email
info@seejanedo.com
.