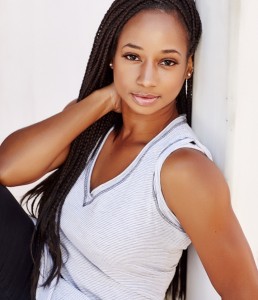 "Having traveled across America and to 24 counties as the first-ever UN Youth Champion, I'm inspired by the desire of young people everywhere to make the world a better place."~Monique Coleman
Everyone's heard it — adolescence is a tough time to parent.  Raging hormones, peer pressure, social drama, and self-esteem issues, all weigh heavily on girls.  Add in the influence of social media, and pressure from the beauty industry — some moms don't know where to turn.  How do we launch our daughters into this chaotic world, with a solid foundation to flourish?
Hollywood actress Monique Coleman, best known for her role as 'Taylor McKessie' on Disney's very popular 'High School Musical' movies, will be addressing this exact question as a keynote speaker at RAISING JANE, on August 20-21st, 2016 in Nevada City, CA.  Presented by See Jane Do and Time for the Talk, RAISING JANE is a get-away experience where moms and their tween / teen daughters can bond and build skills to navigate the teen years.

 

As an actress, dancer, singer, entrepreneur, and the first ever UN Youth Champion Monique has a unique perspective to share with girls about self-esteem and empowerment.  Monique's online youth empowerment talk show called 'Gimme Mo' makes her the voice of a generation for girl power.  
Also keynoting at RAISING JANE is Azure Antoinette, a poet, spoken word artist and millennial & arts education advocate whose performance explores the ways social media is reshaping humanity.  Azure was included in Forbes' "100 Most Powerful Women in the World" issue in 2012 and was featured in a special section titled "Women Helping Women." Her powerful presentations are in high demand, recently being commissioned to write for Maria Shriver, The Gap, Beats by Dr. Dre, Girl Scouts of America, and recently emceed for Lady Gaga's Born This Way, Emotion Revolution college tour. Azure's message of following your passion and having the courage to be yourself will be sure to resonate with moms and daughters alike. 
Unique to most events, both Monique and Azure will spend the entire weekend with the participants which also includes the RAISING JANE Expo featuring DIY arts and crafts such as lip balm making & flower crowns, beauty bar with Grateful Body and 100% Pure Cosmetics, STEM booth for girls, massage, pedicure, swimming, a dance party and more. Moms and daughters will bond as they laugh, love and learn together.
In addition to the keynote segments RAISING JANE will feature interactive workshops including:  Building Confidence and Self-Esteem, Healthy Body Image, Finding Your Voice, Dealing with Social Media, Mother/Daughter Journaling & Finding Your Money Personality. 
"As mothers of both tween and teen daughters, we recognize the struggles and joys of raising strong and healthy girls.  We're so excited to create a space that will not only support girls to be their very best but also help moms to let go of the stories that no longer serve them and show up in their fullest potential," says Elisa Parker of See Jane Do. 
Biz Kids co-founder and event co-organizer Jeannine Glista adds, 
"What can be more important than helping our girls build self-confidence and arming them with the practical tools they need to manage whatever life throws at them?" 
RAISING JANE is lining up to be an unforgettable experience that will give moms and daughters both the skills and memories to last a lifetime.