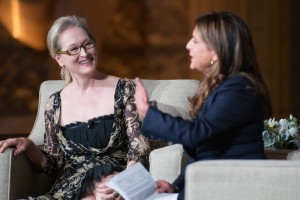 Watch what happens when a global ambassador, a comedian, a princess, a filmmaker, a writer and one Meryl Streep along with hundreds of change-makers join together to support women and girls.
Women Moving Millions mission is to catalyze unprecedented resources for the advancement of women and girls.  See Jane Do was honored to capture the highlights of their annual summit, The Power of Purpose 2015.
This video features: Meryl Streep, Christy Turlington-Burns, Eileen Fisher, Melanne Verveer, Yang Lan, Pat Mitchell, Jacki Zehner, Maysoon Zayid, Mabel Van Oranje, Stephen Lewis, Leslee Udwin, Maria Chrin, Dr. Gail Dines, Kim Azzarelli & Indrani Goradia.
Click here for more information about Women Moving Millions.