New Moon Girls Magazine Comes to Raising Jane!
"
In 1992, I felt a lot of anxiety remembering my own difficult tween and teen years.  My twins Mavis Gruver and Nia Kelly were entering that turbulent time and I wasn't looking forward to it! Unable to find practical, accessible resources to help, I was blessed with the vision of a magazine for all girls who want their voices heard and their dreams taken seriously.
"~
New Moon Girls
 Founder, Nancy Gruver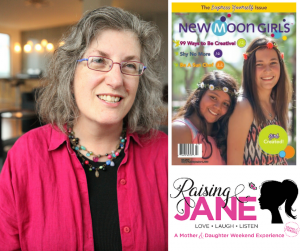 We are so excited to announce that the founder of our favorite magazine for girls, New Moon Girls, is coming to Raising Jane!  Nancy Gruver with her two daughters, created the award wining Girls World Magazine- for girls by girls and more recently, a resource for parents of tweens and teens and an online community for girls.
New Moon believes that girls are powerful, active, and interesting makers in charge of their lives.  The print and online magazine is edited by the Girls Editorial Board, a group of girls ages 8–14, including Raising Jane speaker, 17yr old Kara Christensen.
Nancy Gruver is founder of the groundbreaking international magazine and online community for girls ages 8 and up, New Moon Girls, author of How To Say It® To Girls: Communicating With Your Growing Daughter and blogs on girls' issues, parenting, and media.  She is a national leader in using media to support girls and develop their creative potential.  Pioneered by Gruver at New Moon Girl Media, truly collaborative work by girls and adults is an innovative counterbalance to societal pressures which lead many tween and teen girls to abandon their dreams and silence their voices.  She's a regular media guest on parenting girls during their tween and teen years, focusing on mutual respect and learning. www.newmoon.com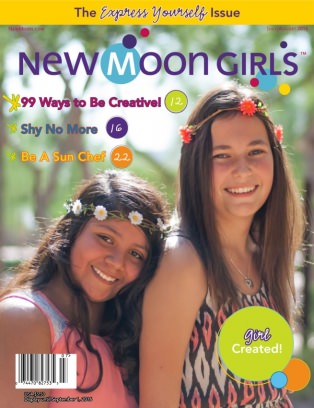 Should parents of girls banish beautiful?
Here's a great conversation starterto have with your daughter before Raising Jane.  Click here to read one of the most popular blogs lately in New Moon Girl.  We'll discuss more at the event.
Have you registered yet for Raising Jane?  Click HERE to Register!  www.RaisingJane.net 
The event will sell out!