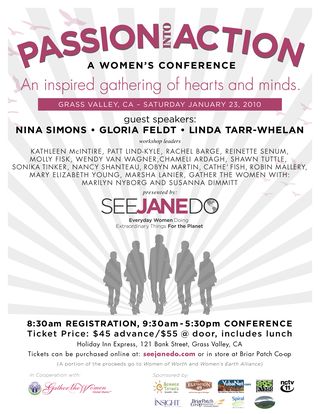 We've received many great questions regarding the conference including:
– What is the Passion into Action Conference?
– Can men attend the event?
– How do I become a sponsor?
Following is a list of FAQs.
We look forward to participating in this extraordinary day with you!
Passion into Action FAQs
1.What is the See Jane Do Passion into Action Conference?
In serving as a platform for the voices of women and a variety of disciplines, the See Jane Do Passion in Action Conference creates a space for the women in their community to meet, network, and explore ideas on how to work together on one another's projects and strengthen their community.Most important the content of the event will hopefully transfer ideas into action.The event showcases real women with real solutions; mixing local and non-local female leaders, visionaries, artists and celebrate female empowerment in all its forms.
The conference is designed for everyday women who want to make a difference in their lives and/or their community.The event specifically serves women in rural communities and small towns.These are areas where little steps can lead to bigger changes at a rapid pace and community members are vested on a personal level for taking care of each other the community in which they live.
2. What is See Jane Do?
See Jane Do is a social change multimedia production that captures the stories of everyday women doing extraordinary things for the planet. In November 2008, we received a grant from the Corporation for Public Broadcasting and nationally acclaimed community radio station KVMR based in Nevada City, CA to produce a series of twelve one-hour radio magazine programs to be aired monthly.
Thus far, we have successfully generated ten episodes, which is hosted and produced by co-founder Elisa Parker and includes interviews with Gloria Steinem, Joan Blades of Momsrising and Moveon, founders of BlogHer, Chef Ann Cooper, Marie Wilson of the White House Project, Gloria Feldt, Goldman Environmental Winner Marie Gunnoe, among others.
In 2008, See Jane Do's Director of Business Development, Jesse Locks organized the first ever Ladyfest Nevada County. With tremendous support from our community, See Jane Do is infusing the spirit and fun of Ladyfest along with transformative tools everyday women can utilize to incorporate their passion and create a positive difference in their community and beyond. In addition to our current Soiree's into Action (parties with a purpose), we anticipate launching other conferences across the country, and uniting local groups of women and connecting them globally via our media program and open source website (launch date is November). We are especially excited to collaborate with Gather theWomen as we kick off this historic event and look forward to supporting their annual celebration of International Women's Day in March.
3. What are the workshops and do I need to stick to the same track?
The conference offers fifteen workshops led by female leaders who demonstrate excellence and passion in their field.The workshops are intended to be hands-on, experiential, meaningful, and fun.Each track is customized to fulfill the overall needs of the attendees including:
Defining You: self development and personal growth
A Greener You: green living
Taking Care of You: health and wellness
The Value in You
Leading Your Life
You may attend any session and do not need to stick to the same track.
4. Should I purchase my tickets in advance?
Space is limited and we suspect the conference will sell out.We recommend purchasing your tickets in advance at www.seejanedo.com or BriarPatch Co-op in Grass Valley.Tickets are $45 in advance includes lunch and $55 at the door if available.
5. Are volunteer opportunities available?
We have a limited number of volunteer positions available for the conference. Please contact us at SeeJaneDo@kvmr.org if you are interested.
6. Is food provided at the conference?
Continental breakfast and lunch is provided by Summer Thymes and BriarPatch and is included with your registration fee.
7. Is this an all-day event or can I attend for part of the day?
We recommend that attendees participate all day but understand this might not be possible for some. Participate when you can but we recommend you purchase your ticket in advance. We suspect the event will sell out and there are no discounts for half days.
8. What is the dress-code?
There is no dress-code for the event. Come as you are. Dress comfortable, dress up, dress down, it's your day to shine and have fun!
9. I'm coming from out of town, is there a special conference rate at the hotel?
The Holiday Inn is providing a special conference rate of $99 per night. You must call directly to make the reservation and mention the See Jane Do Passion into Action Conference. (530) 477-1700. The Holiday Inn and conference center is a new hotel in Grass Valley.
10. Where is Grass Valley, CA?
Grass Valley and Nevada City, Ca are pristine, charming and historic towns located in the Sierra Foothills. Our community revels the days of the wild-west and the discovery of gold and now features a rich arts and music scene along with outdoor adventure. Grass Valley is approximately 1 hour from Truckee, 1 hour from Sacramento, 2