"I was motivated by the magic that happens when a group gathers to share a meal and break bread."
Wendy Van Wagner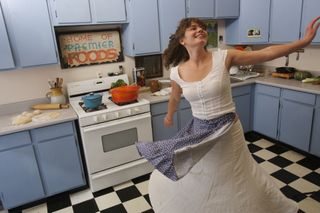 Something wonderful happens when you step into the space of Wendy Van Wagner's kitchen. Food takes on an entirely new meaning. It becomes an unforgettable experience combining community, connection, and local fresh flavors.
With a degree in holistic nutrition education coupled with her love for teaching, Wendy claims she "helps people explore their own culinary wizardry". Since launching her business, In the Kitchen Wendy has nourished the food culture in Nevada County and provided a place for local foodies to congregate.
We are thrilled that Wendy will share her secrets at the See Jane Do Passion into Action Conference. As a new mother, she now experiments with the simplicity of food. So, in her upcoming workshop she'll facilitate a hands-on cooking demonstration that feeds your passion with one pot. During her session, One Pot: Hearty Winter Meals Made with Minimal Mess you'll make several dishes that fulfill your nutritional needs as well as your gastronomic longings. Wendy shares the source of her passion and why women love to nurture with food.
How are you putting your passion into action?
By helping others learn how to cook and care for themselves and their families.
What do you love most about the work you are doing?
I that in each class I teach, I learn something from one of my students!
What were the motivating factors that inspired you to get involved and share your passion?
I was motivated by the magic that happens when a group gathers to share a meal and break bread. People open up, generosity pours forth and new friends are made.
Who were the some female role models or mentors that inspired your work and passion?
All of my cooking teachers have been women. I have worked in small cafes and for large catering companies as well as in schools where cooking is integrated into the curriculum. I have found that for many women nurturing through food is a very natural thing.
Why is the work you are doing so important for everyday women?
Because everyone needs to eat, why not make it food that adds to your life, not takes away from it!
Why is it so important for women to participate in an event like the Passion into Action Conference?
To share the many talents that we all have!
The See Jane Do Passion into Action Conference takes place on Sat. January 23rd, 2010 at the Holiday Inn in Grass Valley, CA. The event includes keynote speakers, Nina Simons, Gloria Feldt, and Linda Tarr-Whelanplus over fifteen workshop leaders. For tickets go to www.seejanedo.com or Briar Patch Co-op in Grass Valley.