"A greater emergence of the healthy feminine throughout our world might help achieve the balance that can restore our social and environmental systems."
Nina Simons (from interview with Nina Utne)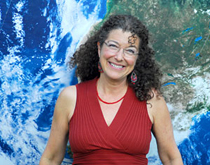 Nina Simons is an everyday woman doing extraordinary things. Over 3,500 women and men converged together in San Rafael, CA in October to share their passion to protect the planet. They were celebrating the 20th anniversary of the Bioneers Conference co-created by President, Nina Simons with her husband Kenny Ausube.
Since it's conception in 1990 the award winning organization has reached millions through a diversified platform including a radio and book series, an annual conference, a website and satellite conference partners (including one in Nevada City, CA). Nina has since expanded her work to restore balance on the planet by creating leadership programs that cultivate women's leadership and producing events that serve as incubators for movements such as, CodePink: Women for Peace, that are uniting women to change the world.
What are the next steps for Nina?
Find out at the See Jane Do Passion into Action Conference where Nina is participating as a keynote speaker. Her mission to protect the planet coupled with fostering women's leadership is the perfect starting point to kick-off the event.
Join Nina along with over twenty other incredible speakers and workshop leaders plus hundreds of everyday extraordinary women on Sat. January 23rd, 2010 in Grass Valley, CA.
Click here for more information.