"Sharing permaculture with women helps them focus on the big picture and brings back our hope for a simpler world connected to nature that feels good and is abundant for all."
Cathe' Fish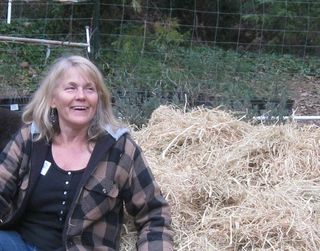 For over thirty years Cathe' has shared her passion for the planet. Having led hundreds of workshops in permaculture and passive solar greenhouse design, planted thousands of trees, and partnered with low income communities to restore their land, she is the ultimate green pioneer.
Cathe's work with organizations like Master Gardeners and Women's Earth Alliance stresses the message that sustainable living is attainable for every person. In her workshop, Green Your Scene at the Passion into Action Conference, Cathe' will demonstrate how permaculture is one of the easiest ways to heal the planet and supply our basic needs.
Cathe' shares how her passion in permaculture led her to India and the importance for every woman to unite with each other and nature.
How are you putting your passion into action?
I help people to green their living scenes, to allow them to take responsibility for a better life for themselves and their descendants, and the natural world around them.
What do you love most about the work you are doing?
It feels so good. I love being a sustainable living midwife. I love empowering people to simplify their lives and connect to the soil and the earth. I especially love Permaculture work because it heals people and the planet. Permaculture provides so many tools for living in a better way by using natural patterns to design our living scenes. I love helping someone lower their energy bill. I love seeing the look on someone's face when they realize how much rainwater falls on their property, and how much water they can harvest. I love teaching people to build a solar oven and cook in it. I love helping someone design a sustainable passive solar greenhouse. I love helping people plant food forests. I love teaching people to plant trees and nurture them like new babies. I love seeing an older woman who had no previous experience, pick giant cabbages out of her easy-to-build and maintain sheet mulch garden. And I love the smell of deeply composted earth.
What were the motivating factors that inspired you to get involved and share your passion?
When I was young, my parents had friends from around the world came and stay with us. These friends told us stories of how they lived, which opened my eyes and hearts to caring about the bigger world.
My parents sent me to an activist high school. Imagine going to a school whose goal was to "develop intellectually prepared men and women who are committed to promoting a just and peaceful world as conscientious and morally courageous leaders in service to others." This high school was "co-institutional', meaning male and female students study on the same campus, but classes were only one sex. Being in all female classes encouraged my friends and I to develop leadership qualities and to speak out. Among other events, some of the teachers took me to march with Cesar Chavez, Delores Huerta, Bobby Kennedy and the farm workers in Delano in the spring of 1968.
When Bobby Kennedy was murdered on June 5, 1968, he was leaving the same hotel ballroom in which I had had my senior prom just two nights before. His murder did something profound to me. It made me want to help create a better world.
I remember hearing Margret Mead say "Never doubt that a small group of thoughtful, committed, citizens can change the world. Indeed, it is the only thing that ever has." Acting on her words has given me an exciting life of activism.
Who are the female role models or mentors that inspire your work and passion?
Since you've asked, I'm noticing that my mentors are wise women over 80 years old. These magnificent women are my role models for growing older with passion and aliveness. Joanna Macy taught me how to put on Council of All Beings and the Work That Reconnects. I love her work. She teaches empathizing with the pain of the earth, and by connecting with our deep feelings, empowering ourselves to act in the interest of generations to come. Barbara Kerr built herself a sustainable homestead in Arizona. She is a pioneer in solar cooking, and taught me how to build a solar wall oven and how to solar cook. My neighbor Bernice Turoff has taught me so much about creating win-win situations.
Why is the work you are doing so important for everyday women?
Women are so talented.As women, we are nurturers, domestic organizers, day to day multi taskers. Sharing permaculture with women helps them focus on the big picture and brings back our hope for a simpler world connected to nature that feels good and is abundant for all.
Why is it so important for women to participate in an event like the Passion into Action Conference?
Women have traditionally gathered round the cooking fire to share, vent, and become inspired. In times like these, in a troubled world, the Passion into Action Conference gives us a place to gather together around the solar cooker to regroup and re-energize. With our excess energy from this conference, we go forth to activate our own inspiration, honoring the earth, our children and the sacred masculine in the men we love.
What are you hoping will be the biggest take-away for women at the Passion into Action Conference?
We can do it! We can create a better world. The time has come for women to step out of the confines of the industrial consumptive society and lead the way to the new gentle way of living with the earth that nurtures people and the planet, and assures us an abundant future for our children. As women, we are the midwives of this new birth. Someone once said, "No one wants to hear about the birthing pains, they just want to see the baby." The Passion into Action Conference gives us a place to share the birthing pains and begin to call in the life we desire.
What is your message to women around the world?
In November, I returned from India where I went as a delegate to the Women's Earth Alliance Sustainable Ag Learning Exchange. Everywhere we went on the tour, we met women who had taken great risk to create a better world.
We met women whose families only have enough food to eat once or twice a day. We met tribal women who had married at 14, and where not allowed to leave their homes or farms, who gathered the courage to meet together despite their husbands disapproval. These women told us how they started saving $3 a month in their self help loan groups, and were able to start cottage industries, health groups, natural resource management, gender equality projects and schooling for girls.
Despite woman doing 90% of farm work in India, women were never allowed to call themselves farmers, and never allowed to operate tractors. We met the first courageous Indian woman who drove a tractor, even with a polio handicap. She called herself a farmer, and went on to win awards for her farm, paving the way for other women.
We met an 18 year old woman farmer, so proud to show other women her biodynamic worm and compost piles. We met poor and abused teen age girls, learning to sew and dreaming of opening boutiques.
My message is this… future generations are depending on us to stop the craziness. There is no time for women to wait for approval from others. 2010 is prime time to step forward with our nurturing skills and open hearts to create a new and gentler world for us and our descendants. We all need to focus away from the materialistic consumptive world and join hands with nature. We need to simplify our lives and get rid of everything that stops us from doing this. There is an extraordinary life to be lived close to nature.
To Western women, my message is Create the World You Dream of by Voting with Your Wallet: Shop locally, eat locally grown foods, grow some of your own your own food- its good for your soul, no GMOS, no manufactured foods, no pesticides, herbicides and chemical fertilizers.
The See Jane Do Passion into Action Conference takes place on Sat. January 23rd, 2010 at the Holiday Inn in Grass Valley, CA. The event includes keynote speakers, Nina Simons, Gloria Feldt, and Linda Tarr-Whelan plus over fifteen workshop leaders. For tickets go to www.seejanedo.com or Briar Patch Co-op in Grass Valley.