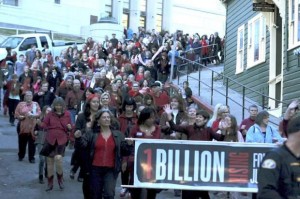 On Saturday, February 14th, 2015, at 1:00PM, Nevada County will join with women and men around the world for ONE BILLION RISING: A REVOLUTION IN COMPASSION. One Billion Rising is an energy, a platform, a global movement, a catalyst, a worldwide decision to end violence against women, a demand for justice, a paradigm shift, an invitation, a gathering of the ready, housed everywhere, housed in our hearts, you, us, REVOLUTION.
Over 1,000 people joined together for One Billion Rising Nevada County in 2013 and in 2014 the Mayor proclaimed February 14th as One Billion Rising Day in Nevada City. This year OBR returns to downtown Grass Valley for the largest flash mob in the Sierra beginning at 1:00PM and a program to follow at the Holiday Inn Express Gold Miners Inn at 2:00PM. The event includes poetry, music and speakers including: Nevada County Treasurer Tina Vernon, Nevada Union High School Athletic Director Jeff Dellis, Ernest Brown, Scott Muir and Sierra College students Melody Arthur and Holly Lemyre.

Nevada County Coalition of One Billion Rising Nevada County consists of local organizations & individuals including See Jane Do, DVSAC, Women Waking the World, Gather the Women, Fran Cole, Skyler Myers, Robin Milam and Joey Jordan with the support of Jazzercise and Rhythms Fitness Studio.

"I'm participating because I lost a family member to domestic violence. I help with OBR in her memory. This past year domestic violence incidents are being reported in the media in a major way, and events like OBR give us a voice and strength in numbers in our fight against domestic violence," said Fran Cole, DVSAC board member. Gayle Guest-Brown, DVSAC Executive Director is co-organizing OBR for a third time, "I rise because I want to be part of shifting the national consciousness toward intolerance for violence against women and children. On that day I join tens of thousands risings and millions of people to say No more!"

One Billion Rising, the largest global action to end violence against women and girls in human history, is launching its third year with One Billion Rising: Revolution, a new escalation that calls for a radical shift to end the global epidemic of abuse that women face worldwide.
With the tagline "Rise, Dance & Thrive," women, men and youth will plan, lead, and participate in actions, dance, political and artistic events, or Risings in hundreds of countries on (and around) the date of February 14th to highlight, spark, and mobilize artistic and community-based initiatives to bring in the new revolutionary world of equality, dignity, and freedom for all women and girls.
"1 in 3 women across the planet will be beaten or raped during her lifetime. That's one billion women and girls. Every February, we rise – in hundreds of countries across the world – to show our local communities and the world what one billion looks like and shine a light on the rampant impunity and injustice that survivors most often face," stated Eve Ensler, playwright, activist and Founder of One Billion Rising. "We rise through dance to express joy and community and celebrate the fact that we have not been defeated by this violence. We rise to show we are determined to create a new kind of consciousness – one where violence will be resisted until it is unthinkable. This year we are rising for Revolution"
You can learn the Break the Chain dance for free in advance with OBR Nevada County partners, online or just dance however the spirit moves you when you get there.
Jazzercise Grass Valley
126 S. Auburn St.
(530) 470-0441 lmaas@att.net
Mary Wollesen at Rythms Fitness Studio
Address: 13479 Colfax Hwy, Grass Valley, CA 95945
Phone:(530) 273-6844 
To learn more about One Billion Rising Nevada County view the website atwww.onebillionrisingnevadacounty.org or email info@seejanedo.com or contact DVSAC.
About One Billion Rising
One Billion Rising is the biggest mass action to end violence against women in human history. The campaign, launched on Valentine's Day 2012, began as a call to action based on the staggering statistic that 1 in 3 women on the planet will be beaten or raped during her lifetime. With the world population at 7 billion, this adds up to more than ONE BILLION WOMEN AND GIRLS. 
On 14 February 2013, people across the world came together to express their outrage, strike, dance, and RISE in defiance of the injustices women suffer, demanding an end at last to violence against women. Last year, on 14 February 2014, One Billion Rising for Justice focused on the issue of justice for all survivors of gender violence, and highlighted the impunity that lives at the intersection of poverty, racism, war, the plunder of the environment, capitalism, imperialism, and patriarchy.
Events took place in 200 countries, where women, men, and youth came together to Rise, Release, and Dance outside of court houses, police stations, government offices, school administration buildings, work places, sites of environmental injustice, military courts, embassies, places of worship, homes, or simply public gathering places where women deserve to feel safe but too often do not. The campaign was covered widely by media in all corners of world including The New York Times, The Guardian, NPR, and many more.

This year in 2015, we are rising for Revolution in Compassion. We invite you to join us.www.onebillionrising.org
About V-Day

V-Day is a global activist movement to end violence against women and girls that raises funds and awareness through benefit productions of Playwright/Founder Eve Ensler's award winning play The Vagina Monologues and other artistic works. The V-Day movement has raised over $100 million; educated millions about the issue of violence against women and the efforts to end it; crafted international educational, media and PSA campaigns; reopened shelters; and funded over 13,000 community-based anti-violence programs and safe houses in Democratic Republic of Congo, Haiti, Kenya, Egypt, and Iraq. V-Day has received numerous acknowledgements and awards and is, one of the Top-Rated organizations on both Charity Navigator and Guidestar. V-Day's most recent global campaign, ONE BILLION RISING, galvanized over one billion women and men on a global day of action towards ending violence against women and girls. www.vday.org