Posted in the magazine, Alpine Green Living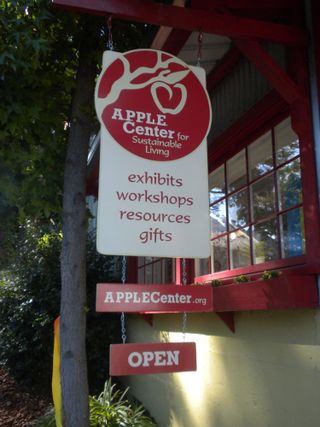 Think globally act locally, is the message that twenty-nine year old Mali Dyck, Executive Director of the APPLE Center for Sustainable Living, wants community members and tourists to take away from a visit to the newly opened resource center in downtown Nevada City, CA.
At just 800-sq ft this little building is poised to have a big impact in the community. Not only is it a model for energy-efficient workspace, but a hub and an incubator for ideas on how to live green. The APPLE Center (named after its non-profit fiscal sponsor the Alliance for a Post-Petroleum Local Economy) offers a free library with books and dvds, hosts classes and workshops along with educational exhibits on sustainability, energy conservation and the local economy. "My background is in the local food movement," explains Dyck who also owns a small farm and landscaping business. "When I wanted to open the center, it was about supporting our farmers and community gardeners, but then I realized you can't talk about food without talking about energy, transportation, air quality and other elements that are inter-connected."
The idea for a "one-stop-shop" resource center that would provide people with knowledge and tools for sustainable living evolved out of a community meeting hosted last December by Reinette Senum, cofounder of Power-Up Nevada City and Mayor of Nevada City. Determined to create a town that is both sustainable and energy efficient, Senum invited the entire town of almost 3,000 to participate in the planning and implementation process.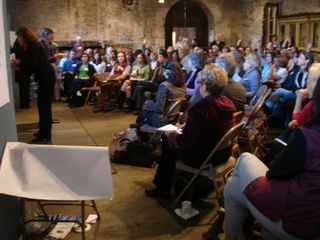 The kick-off event, named appropriately the Community Congress, included contractors, teachers, students, business owners, parents, nonprofit managers, community organizers and more who all collaborated together to identify five key goals for the next five years; 1) localize our food, 2) create a low interest revolving loan fund, 3) create a sustainable transportation infrastructure, 4) reduce energy consumption by 30%, 5) increase public awareness and involvement in reducing energy.
Senum realized the power of a small town early on. After reading the book The Tipping Point, she learned of the idea that to tip the scale one must reach 15% of the public. To reach 15% in a city with millions of people would be difficult, but to reach 15% of the people in a town with a population of 3,000 like Nevada City would mean only 450 people. Suddenly the idea of creating change seemed less overwhelming. "It's not that cities can't do it, but a city will be more complicated," says Senum. "It's like a cruise ship. Getting a cruise ship to change direction is much more challenging than a rowboat where you can turn around really fast. That's why I think places like the APPLE Center can become the clearinghouse and nexus for communities to come together and centralize. It's a collective place."
In July, Dyck and Senum received a $40,000 grant from Butte County Private Industry Council and along with the help of volunteers, who donated hundreds of hours of labor and over $64,000 in materials were able to gut and retro fit the small building. The APPLE Center for Sustainability celebrated its grand opening on Sunday, September 20th. Hundreds of community supporters and those curious about exactly what a sustainability center is poured through the Center's doors. It's only been a few months and the APPLE Center is already hosting presentations, workshops and socials the Center and other community groups. Dyck hopes this is only the beginning of getting the community involved at all levels to connect the dots and complete a much bigger picture of sustainability. "A lot of us feel like as an individual we're powerless against the big machine, but in my experience with opening this center, it's actually the consumer who has the power," says Dyck. "We need to vote with our dollars."
by Jesse Locks and Elisa Parker
Jesse Locks and Elisa Parker have a FM radio show called See Jane Do which runs from
1-2p.m. at 89.5 or 105.1 the 1st Wednesday of every month highlighting everyday
women doing extraordinary things for the planet.