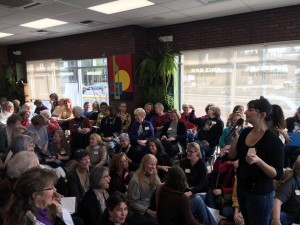 Why we hold a safe and sacred space for women. Today as I met up with several hundred amazing women I was asked, by a man, "how come I can't participate in the this gathering today, for women?" Disclaimer, I love men and we need men to also heal from their wounds and rise up in love with us. AND it is my passion and purpose to support women to step into their leadership and show up as their whole best selves.
It is not my role to provide that space for men and I know some awesome men who are holding this space and doing the work right now. My friend Oscar Perez, who is doing the work, has expressed that it can be a challenge to just get men in the door, to take the leap and dive in, to heal…the Making of Men. The patriarchy (which hinders both men and women) has pinned women against each other for years…we are long overdue for solidarity and healing with each other.  
I appreciate the supportive men in our lives who can honor that and the space that is needed. And in reference to Indivisible Women Nevada County, I also encourage everyone to connect with a group/s that speaks to you. We are excited to unify, connect and collaborate with the other Indivisible groups. It's happening (tomorrow actually) and I appreciate your patience and willingness to let that process unfold. The lotus is blossoming from the mud…please allow us time to grow and take shape. Our roots are still connected. It is not my role to create a space for men but I love seeing that men are also rising up taking the lead to do so. You are needed! We all are.