"My time is spent almost equally now between stand up and resistance…I do take pride in saying to women of all ages that this part (fighting for equality) isn't over yet.  We have to jump higher, work harder and think of new imaginative ways to get in the side door or side window because the front door may not be open yet."~ Kathy Griffin
Kathy Griffin is the ultimate resistance sister.  She's been leading the way for women in comedy for years and despite it all, never gives up and will never be quiet.  In this interview she talks about surviving and thriving in an industry that values youth, looks and men over talented women.  Kathy shares intimate stories about her mentors and icons, Joan Rivers and Gloria Steinem, her go to guy, Anderson Cooper, living next door to the Kardashians (a possible new babysitting gig for her mom, Maggie) and of course, her bizarre encounters with The Donald.  Unlike many of Kathy's interviews where most of her stories are around fellow celebrity encounters, as she said following our conversation…"I went deep."  It's a side we don't often hear from this incredibly talented and no holds bar comedian and best selling author.  No worries, there are still many laughs as she couples activism with comedy.
About Kathy:
Two-time Emmy and Grammy award-winning comedian Kathy Griffin is a towering figure on television, on tour and in publishing. She breaks through the entertainment clutter with her universally recognized brand of pull-no-punches comedy.
A #1 New York Times bestselling author, Kathy recently released her much-anticipated second book, Kathy Griffin's Celebrity Run-Ins: My A-Z Index, in November 2016. The book is an A-Z compendium of the celebrities she's met over the years and the outrageous, charming and sometimes bizarre anecdotes only she can tell about them. Simultaneously, she revealed a brand new nationwide, 50-city standup tour under the same moniker that will begin in January of 2017.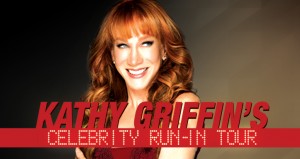 Kathy Griffin's Celebrity Run-In Tour
VETERANS MEMORIAL AUDITORIUM
The Center for the Arts presents
Friday, June 16, 8:00PM (doors open at 7:00pm)
Kathy Griffin is the resistance sister. She boasts she's spending an equal amount of time between stand up and the resistance these days and is one of Indivisible's biggest champions. She is leading the way for women in comedy and speaking up (in her Kathy way) when it comes to sexism, ageism and inequality in the entertainment industry. Indivisible Women is excited to support this forever perSister and gather together for some comedy relief.