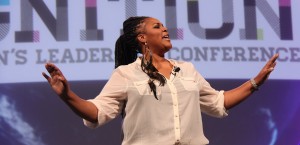 "The way to inspire change, is to recognize the wisdom of a woman." ~Azure Antoinette
Listen to an exclusive interview with Elisa Parker of See Jane Do and Passion into Action keynote speaker, Azure Antoinette.
Called "the Maya Angelou of the Millennial generation", Azure Antoinette is a poet, spoken word artist, freelance photographer, and youth and arts advocate whose performance poetry explores the ways social media is reshaping humanity.  She is also a 10×10 Global Ambassador, check out her poem featured on Girl Rising!
In 2011, she founded an arts-in-education program that provides custom workshops to excite and educate teen girls on how spoken word, performance poetry, and social media can make an impact on the world. For this project and many others, she was included in Forbes's 100 Most Powerful Women in the World issue in 2012 and was featured in a special section titled "Women Helping Women.
Azure Antoinette is in high demand as a poet, arts-in-education consultant, speaker and workshop facilitator on youth poetic expression and creative writing as catharsis. She has been commissioned to write for Maria Shriver, Beats By Dr. Dre, Girl Scouts of America, The Documentary Group, California Arts Council, the late Lt. Colonel Lee Archer (Tuskegee Airman), American Cancer Society's benefit Art 4 Life and many more.  and Azure Antoinette recently with ABC Family developing new programming around the subject of teen voices and expression. 
Antoinette is the creator of STUDIO:alchemy, an arts-in-education organization, operating curriculum in New York, Iowa and Los Angeles. Additionally, Azure established Aalchemik Press – an independent publishing house for poetry and narrative literary work in 2011. 
Azure believes that we should all strive to do what we love for a living, she can be found living by a quote that she penned in 2010 – "Take it moment by moment, sometimes a day is too much."
Azure Antoinette is a published author of 3 titles, BitterSweet, Commissioned, Comissioned:the Back Story and an upcoming title For the Sake of Brevity.
Gap is kicking off their new campaign, One Stitch Closer, to amplify women's voices.  Spoken word artist and poet Azure Antoinette was one of the six women selected in their new series.  We are thrilled and honored that Azure is participating in our 4th Annual See Jane Do Passion into Action Experience on May 31st!