See Jane Do & KVMR Presents Live Broadcast Event: Our Town- Music, Spoken Word Fuel Racial Justice Special; Love Trumps Hate This Sunday
Another experiment in community engagement comes to the airwaves of KVMR 89.5 FM and the radio station's Community Room this Sunday night on the 15th anniversary of 9/11.
It's a special edition of the station's occasional "Our Town" specials, this time featuring millenial poet and arts education advocate Azure Antoinette and up-and-coming Australian music artist Emily Rex performing together as Spare Pages. The broadcast will air live Sunday 7 p.m to 9 p.m. (89.5 FM, kvmr.org streaming) and is being hosted and produced by Elisa Parker of See Jane Do.
"This evening is to celebrate and encourage compassion, healing from violence and racial justice," notes Parker.  Called the "Maya Angelou of the Millenials," Antoinette was included in Forbes' "100 Most Powerful Women in the World" issue and recently emceed for Lady Gaga's "Born This Way: Emotion Revolution" college tour.
Meanwhile, Rex was a finalist in the Austrialian version of "The Voice" with coach will.i.am (The Black Eyed Peas) and says, "My dream is to move people through my music and put a smile on people's faces." As Spare Pages, Azure and Emily recently made their album debut together with "First, Listen," which was just submitted for Grammy nomination contention.
"Azure and Emily are See Jane Do favorites, and I'm thrilled they're returning to our community," beams Parker. "I initially met Azure at TEDWomen several years ago and immediately connected around our passion to support women and girls."
"Whether it's Azure's powerful spoken word piece, PULSE, in response to the recent shootings in Orlando or Emily's enchanting performance of Pure Imagination, Spare Pages reminds us to return to humanity and that love always trumps hate," adds Elisa.
Also featured in the program is Anna Blackshaw of SURJ (Showing Up for Racial Justice), a national network of groups and individuals organizing for racial justice. "SURJ moves White people to act as part of a multi-racial majority for justice with passion and accountability," explains Parker. "They envision a society where we struggle together with love, for human dignity and a sustainable world."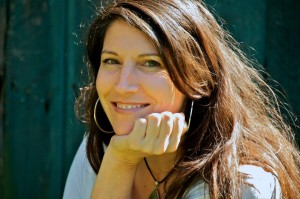 Anna Blackshaw is a writer, photographer, and long-time public-policy advocate on issues of racial and economic justice. She is a member of the coordinating committee for Bay Area Showing Up For Racial Justice, an organization that works to move white people into action for racial justice. She also chairs the Youth and Families Committee, which works to help parents and educators deepen their capacities to have more meaningful and authentic conversations with children about race, racism, and racial identity.
Anna's writing and photography have been published in the Los Angeles Times, The Independent Weekly, Colorlines, Alternet, and The Sun magazine. She is a contributor to Shafted, Free Trade and America's Working Poor, and is the co-author of the award-winning book No More Strangers Now: Young Voices from a New South Africa. She serves on the board of directors of Just Foreign Policy.
Parker will also be joined by the local band Whee The People and its founder, Tommy Daly.
The live broadcast event is free and open to the public, with doors opening at 6:30 for the 7 p.m. show.

————————————
KNOW & GO:
WHAT: "Our Town" live KVMR 89.5 FM broadcast featuring Azure Antoinette, Emily Rex, SURJ, Elisa Parker and the band Whee The People.
WHEN: Sunday, Sept. 11, 7 p.m. to 9 p.m. (doors open 6:30 p.m.)
WHERE: KVMR Community Room, 120 Bridge Street at Spring, downtown Nevada City.   Or listen at www.kvmr.org or watch on KVMR Facebook Live.
COST: Free to the public (limited number of seats).  Please RSVP.  Click here to RSVP
INFO:  kvmr.org, KVMR Facebook, 530/265-9073