We want to enhance your audience's experience and share the incredible work you are doing with the world!
Invite See Jane Do creator, CEO & radio host Elisa Parker to speak at your conference
Host a See Jane Do Media Lounge & live broadcast at your event
Bring our transformational events to your community or collaborate with our event team to produce an event that strengthens your team or community and builds your customer/member base.
We've Got Your Back
Reach thousands of extraordinary women via the See Jane Do platform and connect them to your event or organization.
Choose which Medium Works Best for You
See Jane Do Media Lounge:  Why confine the magnitude and magic of your event within the walls when you can reach thousands worldwide.
Promote and generate a buzz.
Capture the essence and stories from your event.
Stay connected with your audience year-round.
There's nothing quite like the See Jane Do Media Lounge.  Elisa Parker and guest hosts capture the very best of your special guests, speakers and attendees.
The Media Lounge serves as a hub for speakers, special guests and press to share up-to-date information, photos on the red carpet and capture exclusive interviews.  Attendees enjoy WiFi and a comfortable setting to meet, connect, and network. In addition to the lounge, the See Jane Do Street Team goes behind the scenes to capture some of the best moments of your event with special guests.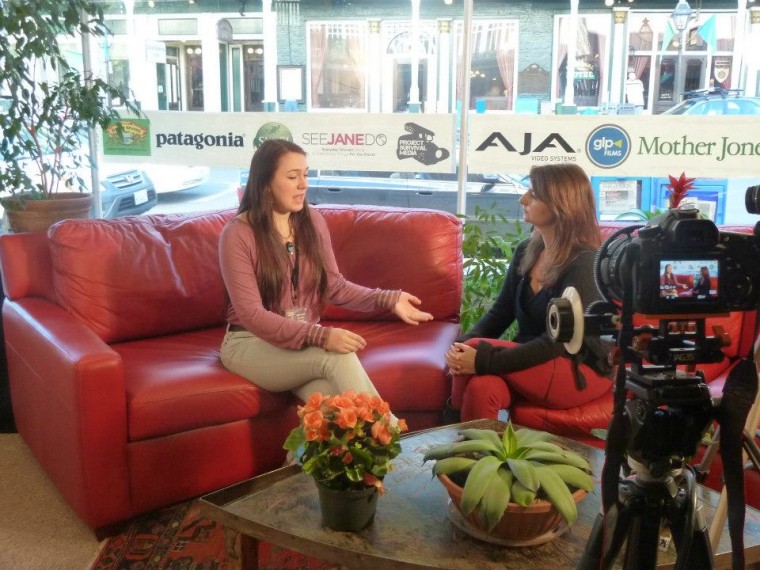 Media Platform:  The Media Lounge can include, videos, live streaming, live broadcasting, podcasts, photos, website, print and social media.  All of which you have full access to AND See Jane Do reaches out to thousands via our platform.
Videos:  3-5 minute clips featuring interviews with guests hosted on Vimeo or Youtube and featured on websites including: your's, event partners and See Jane Do.  Promote & post these videos throughout the year to remind your attendees how great your event is plus enhance the value of your organization through meaningful content.
Radio:  Interviews featured on See Jane Do radio hosted by Elisa Parker on community and public radio stations including KVMR.
Photos and Social Media:  Media Lounge social media team works with your team to post up-to-date news and photos on Facebook and Twitter.
Live Stream:  See Jane Do partners with Telestream to live stream the interviews using Wirecast.  Want to boost attendance and create a buzz?  Kick-off event with a live streamed broadcast featuring short interviews from your event reception.  We call this popcorn interviewing; Elisa moves around quickly and captures up to 12 great stories within the hour.  It's one of our favorite parts of the Media Lounge experience.
Contact us at info@seejanedo.com to learn more and bring the Media Lounge to your event.  Limited slots available for 2015 and booking for 2016.
"The Wild & Scenic Film Festival was lucky to once again have Elisa Parker running the show at our Media Lounge.  From concept to execution, her vision became reality and our filmmakers and special guests were treated like the VIPs they are.  Her interview style was professional and fun—the prep work she completed in advance of interviews was glaringly obvious in her insightful questions and impressed not only the audience, but the guests themselves. With Elisa, you have complete confidence the job will  not only happen, but that the product will exceed expectations."  ~Melinda Booth, Wild & Scenic Film Festival Director
"Thank you for the best interview I have ever had. That's saying a lot considering I have been interviewed by everyone from Bill Maher to  Geraldo to Governor Kasich. But somehow they all failed to employ anything approaching your holistic and heart centered approach. You managed to evoke each aspect of my personal journey, my passion, my purpose and my professional life in a way which flowed naturally and weaved each topic to the next. I found the experience utterly delightful and supremely inspiring."~Veronica Monet, author, relationship specialist, sexologist
"You were AMAZING! Thank you for being a part of National Go Run.  We can't thank you enough for your contribution to VoteRunLead." ~Erin Vilardi, VoteRunLead Founder & Director
"It was truly an inspiring and very much a "She Builds Me Up" evening.  So many positive, creative and capable women, I was so moved personally and Habitat is grateful to be part of such a collaboration.  Thank you Elisa for making everything so seamless with the Live broadcast."~Debbie Arakel Sheppard, Executive Director, Nevada County Habitat for Humanity
"On behalf of us involved with the film project, I really want to thank you for taking the time, professionalism and just all around great hosting skills to make for a very fun interview. We've done a number of these, at least I have, in the last six months or so and that was really head and shoulders the above anything previous. Not that the others weren't great, but you are very very good at what you do. I know you definitely put everybody ease in front of the camera (including rhythm). So, again, thank you so much. It was the great way to participate further in the festival."~Tony Schmiesing, adventure seeker, writer & filmmaker
Live Radio Broadcast Event on KVMR at Wild & Scenic Film Festival Media Reception
Live Radio Broadcast Event on KVMR with Habitat for Humanity
Elisa Parker Brings Passion & Purpose to Your Event: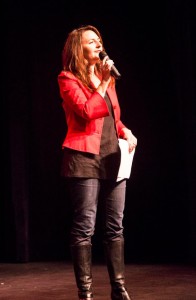 In 2014 Elisa Parker, co-founder of See Jane Do said enough of the burn out and leaning into broken systems.  When she left her position in corporate America twelve years ago to spend more time with her new born daughter she came face to face with the reality of her own value and worth.  She had given up the two things society values the most; power (position) and money.  Elisa recognized the need to empower everyday women, like herself and in 2009 created See Jane Do.  See Jane Do is a media and events company that encourages women to be heroes of their own lives and captures the stories of everyday women doing extraordinary things.
She embodied the Superwoman Syndrome.  Yet, as a mom running a household including her husband, two daughters, lots of pets and running a successful media & events company she realized that she was just tired of running.  She began to question what she was running too.  Just what was she leaning into; a glass ceiling, college debt, the good ole boys club, crazy healthcare expenses, doing it all, not doing enough, flabby arms, unequal pay?  She was tired of encouraging women to lean into a system that no longer serves them or men for that matter. Recognizing that change starts with ourselves, she retired her Superwoman cape, the hero who strives to save everyone first and instead became an everyday hero of her own life; saving herself, living for the present moment and discovering the wonder that already existed within her.  She went full Arete.
Arete:  Living in excellence through your purpose and passion.  Created by Sara Sharpe, the Arete Women's Initiative is about being an everyday hero who embodies her fullest potential in health and wellness, spirituality, life plan, organization and relationship.  It's the whole enchilada.  In each element Elisa asked herself two questions, "Am I making the most of my life and why not?"  She lost 20 pounds, strengthened muscles she never knew she had and participated in her first triathlon (riding her 10 year old daughter's bicycle).  She launched a new media program, joined a year-round relationship program with her husband, learned to surf (ok she kind of learned to surf), got rid of the suitcase always sitting at the end of her bed, began to ask for what she wanted, cleared out what didn't serve her (still working on that), was silent (for a whole 24 hours), negotiated debt, and has a loving relationship with her tween and teen daughters (even when they tell her "you don't understand").  Basically, she made what seemed impossible possible and she's much happier for it.
Sure she still experiences fear, has down days and cries when it hurts.  She's also still flying her cape but this time she's doing it on her terms.  She's creating the new dream.  The re-definition of the new American Dream begins with each of us stepping into Arete and the wonder that already exists within you.  Do you wonder what's possible, what you're capable of?  You don't have to look any farther than you heart.  Everything you've been looking for and need is already within you.
Elisa shares her message across the country and engages women and men to put their passion into action, to be part of the new American Dream and to just be their best self.
Her new book in process, Don't Be a Dick, Be a Jane:  In Search of Her New American Dream coupled with a media series, connects with positive deviants across the country who have taken a left turn and are creating new models, programs and systems to create a positive shift that supports all people and the planet at large.
Elisa Parker is an award-winning producer, reporter, talk radio host and an activist. An acknowledged media maven, Elisa's work takes her around the world to connect people through the power of stories and solutions that go beyond leaning in to broken systems.  For ten years she has hosted a weekly show featured on nationally-acclaimed radio station KVMR, where over 350 interviews have included such luminaries as Lily Tomlin, Gloria Steinem, Eve Ensler, Donna Karan, Geena Davis, Jennifer Newsom, Michael Franti, Krishna Das, Indigo Girls, Gloria Feldt, Terry Tempest Williams, Helen Reddy plus the untold stories of everyday women who are doing extraordinary things.  See Jane Do has also been featured on NPR in addition to other media outlets.
Elisa is also the co-founder, producer and host of the See Jane Do Media Lounge featured at events such as, the Wild & Scenic Film Festival, The White House Project EPIC Awards, Go Run and Passion into Action and other See Jane Do events including: Float and Giggle and Passion into Action™ Women's Experience (PIA), an annual event serving over one thousand women in rural communities and small town America.  Past PIA speakers have included well-known personalities Martha Beck, Holly Near, Gloria Feldt, France Moore Lappe', Jean Shinoda Bolen, Kathy LeMay, Nina Simons, Tiffany Dufu, Sista Monica and more.
In addition to PIA, Elisa facilitates, emcees and moderates programs, panels and workshops that aim to fill the gender gap in leadership. Elisa connects and inspires committed "self-leaders" through such additional See Jane Do events as "Soirees Into Action," SJD Slumber Parties, One Billion Rising NC and TEDx.
Elisa is a recipient of the Jody Fenimore Award for Public Affairs and Osborn-Woods Community Service Award. She is an alumna of the Women's Media Center Progressive Women's Voices program and The White House Project's Go Run program. She holds a BA in Communications from San Francisco State University and a MA in Organization Development with a focus on Leadership at University of San Francisco.  Elisa lives in the Sierra Foothills with her husband, two daughters, two cats, one puppy and a Beta Fish that won't give up.
Elisa can participate in your event, conference or festival in various capacities:  
Keynote Speaker:  She'll light your fire, get to the truth, and make you laugh (and maybe cry).
Emcee:  Like the perfect host, she makes sure your audience is engaged, having fun and keeps it all flowing.  Join her at these upcoming events:  Ridgestock, A Matter of Taste, Wild & Scenic Film Festival, The Center for the Arts, Political Fundraisers, A Night of Giving
Moderator
Facilitator/ Workshop Leader
Suggested Speaker Topics
The Greatest Everyday Hero:  Put on your cape!  Learn how everyday women are extraordinary heroes and how you can discover and awaken to the wonder that already exists within you.
Don't be a Dick, Be a Jane!  For more than five thousand years, women have been told they must lean into broken systems and old models that never properly served them.  This interactive presentation introduces new women-created models and programs that tap into women's particular strengths and talents.
Women Moving Forward with Passion into Action
The World is Waiting for Your Story:  Unleash the Power of Your Voice
Interviewing Techniques:  Capture the Super Star in Every Woman
Contact:  http://www.soapboxinc.com or info@seejanedo.com to book Elisa at your next event
Shorter Bio:
Elisa Parker is the co-founder, president & host of the award winning radio program, See Jane Do. Serving as an activist for women, social justice, & the environment, Elisa's work takes her around the world to discover and share the extraordinary stories & solutions in each of us.  As a media maven her passion is connecting others through story.  She hosts her weekly show for nationally acclaimed radio station KVMR & is the co-founder & director of the Passion into Action™ Women's Conference, TEDxGrassValley and the See Jane Do Media Lounge.  She is an alumna of the Women's Media Center Progressive Women's Voices program & The White House Project's Go Run program. Elisa holds a BA in Communications from SF State and a MA in Organization Development at University of SF.  Elisa lives in the Sierra Foothills with her husband and two daughters.
"Elisa Parker is an incredible asset to the community. She is a thinker and a doer. As a moderator, master of ceremonies and broadcaster at KVMR, her ability to ask pertinent questions, draw out personalities, create interest by engaging and captivating her listening audience is nothing short of pure genius. Her mission to encourage, educate and empower women via See Jane Do is an integral piece, not only for Nevada County but really for society as a whole. As Executive Director for Nevada County Composers Cooperative and Education Coordinator for Music in the Mountains I have had both the privilege and pleasure of working with Elisa on the radio and at events she has emceed. She is a bright star in our community." ~Mark Vance, Executive Director Nevada County Composers Cooperative & Education Coordinator Music in the Mountains
 "It was, and is, amazing! Elisa is the queen of lifting us all up!"~Lorraine Larson, Associate Director of Habitat for Humantiy
"There is an extraordinary woman in your community and her name is Elisa Parker." ~Terry Tempest Williams
See Jane Do Events Production
Women of all ages love these See Jane Do favorite events:
See Jane Do Float & Giggle:  Take a load off and come out and play!  Do you remember what it feels like to dance like no one is watching, float your cares away, laugh out loud, be pampered and nurtured, play a game for the fun of it, be unplugged, celebrate your best self and just BE.
We've designed this event for you! Re-connect with the dreamer and your 10 year old self. The one who believed anything was possible, who would play all day and create magic & dance parties with your friends.  Gamechangers Need To Play Too!  

Who:  This is a great event for all ages, especially your daughters.
What:  See Jane Do partners with our favorite funny ladies like Katie Rubin for the giggles, and brings massage, pedicure, hula hooping, games and other good stuff to you.  Swimming pool or lake required for floating.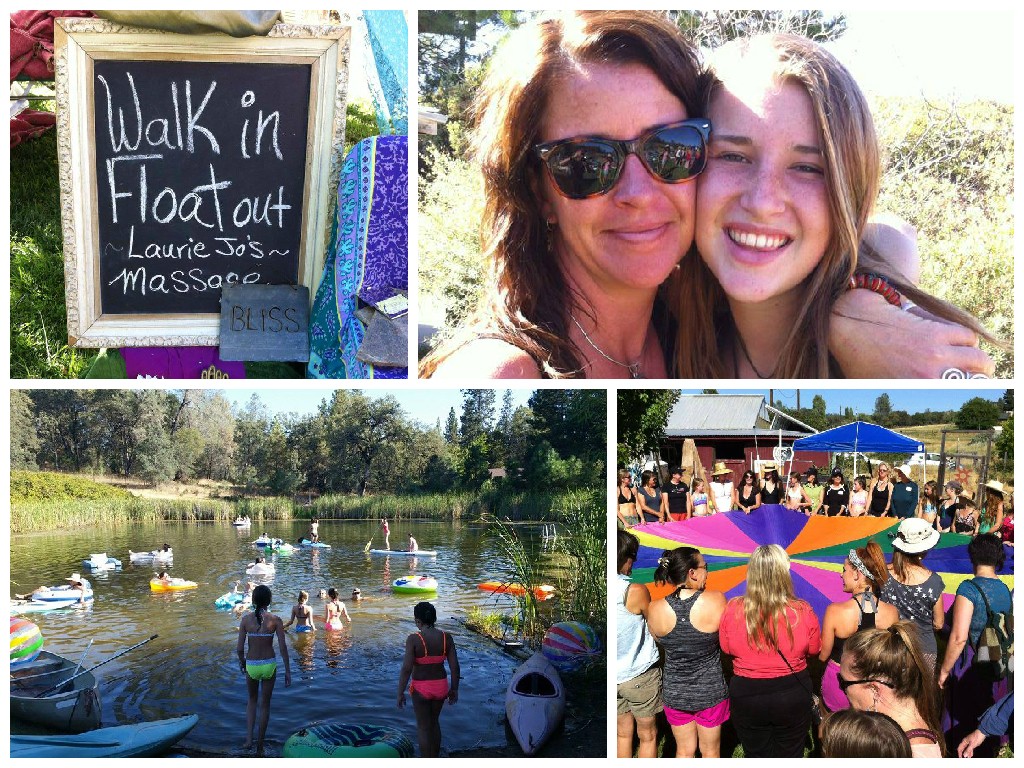 See Jane Do Slumber Party
Come Out and Play! Relax and Recharge.  It's rare that we get to hang out and play with all the incredible women in our community at the same time. Now we can!
*Have you been yearning for some playtime with your girlfriends?
*Are you ready to wind down from a full summer and recharge before the holidays?
*Are you craving some "me" time?
*Are you ready for a mini vacation only moments from your home but far enough to leave your troubles behind, have fun, relax and play?
This event was designed for you.
The See Jane Do Slumber Party Includes:
*Happy Hour
*Talent Show: It's Your Time to Shine
*Dance Party
*Beauty Bar
*Clothing Swap
*Campfire with SJD S'Mores
*Late Night Movie
*Morning Yoga
*Organic Breakfast
*On-Site Massage Therapist and Energy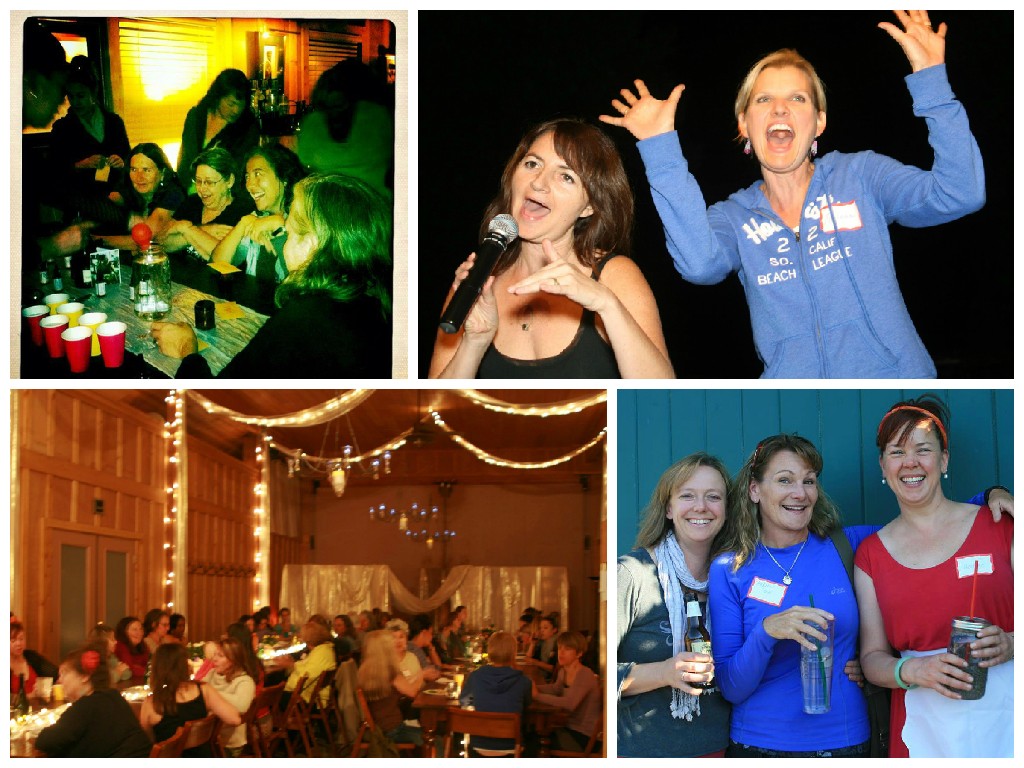 See Jane Do Soiree into Action or Passion into Action Online Series:
This is our party with a purpose whether you're launching a new product, program or want to broaden your reach and share your great work via our platform, See Jane Do produces fun and meaningful events with results.  Our events can take place on site or online
Following are some of the exceptional women and organizations we've partnered with:
Habitat for Humanity:  Women Build (increased membership by 400!)
One Billion Rising
Soaring in Light:  Guidance Cards
The White House Project
Garden Goddesses
Heather Donahue: Prettywell
Awakening Women Institute
Code Pink
Gloria Feldt:  Women Take the Lead
Sonika Tinker:  Love Works
Kathy LeMay: Raising Change
Alexia Vernon
Jacqueline Boone: 6 Months to Live
Tabby Biddle
Suzie Daggett
Mara Hoover
Alix Rager:  Sweet Spot for Success
Contact us at info@seejanedo.com to discuss how we can enhance your program and bring one of these events to your community.
"I can't thank you enough for all that you do. You create an environment where anything seems possible. You bring an incredible gift to this community.  You are a rock star!"~Heather Donahue, director, actress and author of Growgirl
"I'm more than happy to know that there was a kid named Elisa who regaled her younger siblings with Edith Ann stories.  That's as much as anything can be." ~Lily Tomlin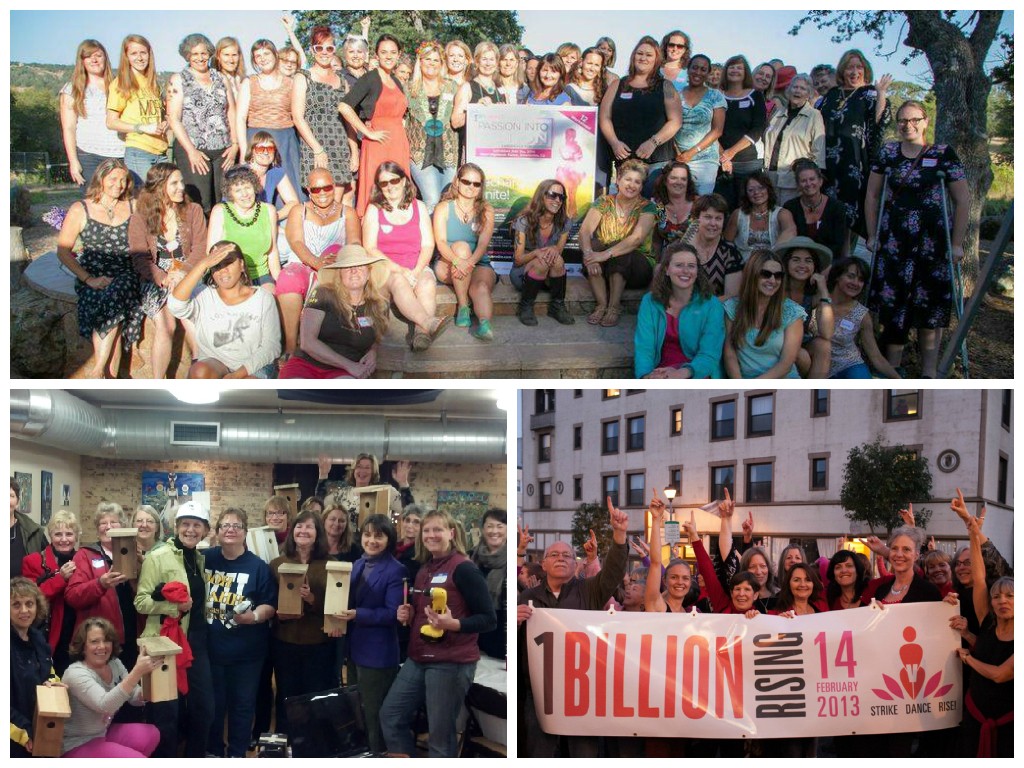 Contact us at info@seejanedo.com to collaborate and create your event.  Fun and play are required!