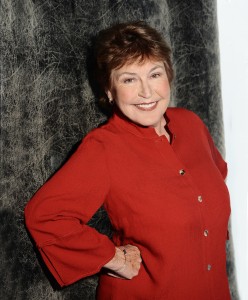 "Be strong and believe in yourself because we can create miracles" ~Helen Reddy
Helen Reddy's iconic song "I Am Woman" became the anthem for the second wave movement for women's rights in the 70's.  Initially when she set out to write the song she says she didn't envision the magnitude of enthusiasm the song would create from fellow activists.   Forty years later Reddy says "we're making progress but we often take one step forward and three steps back.  It saddens me that America is so far behind in terms of having women in politics, women in high places," says Reddy. "In Australia we have a female Prime Minister, a female Governor General…I don't know what it is about America but it doesn't seem to like women terribly much.  We are not up to par now with the rest of western society."
Grammy award winning artist, Helen Reddy continues to remain active in community affairs, Reddy served for three years as Commissioner of Parks and Recreation for the State of California and has recently emerged from six years of retirement to share her favorite songs on stage.
Reddy's work demonstrates to all of us the importance of sharing your voice and to stand in your power and truth as a woman.  The impact you create just might surprise you.
Helen Reddy is performing at The Center for the Arts in Grass Valley on Friday, April 19th, 2013.
Click here to listen to Elisa Parker's interview with Helen Reddy
Click here to listen to Elisa Parker's interview with Helen Reddy