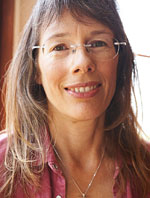 I met Anita at the SCHIP celebration in Sacramento. I spotted the MomsRising group in the ballroom immediately as Jackson was bouncing her adorable 4 month old daughter on her lap. MomsRising circulates numerous petitions, one of which was for the State Children's Health Insurance Program (SCHIP), bringing health-care to 11 million children. MomsRising members contributed 135,000 letters to support this program. Jackson was thrilled, "creating change is one click away. MomsRising makes it easy for women to have a voice and make a difference in policy that effects family, children, and caregivers". See Jane Do will feature more on MomsRising in our upcoming episode on March 25th, 2009 on KVMR.
New media is a wonderful way to bring issues concerning women to the table for discussion and action. I recently read about entrepreneur Sheila Johnson, co-founder of Black Entertainment Television and now co-owner of the Washington Mystics who is utilizing Twitter to create the first "Tweet-a-thon" according to the Washington Times. Johnson produced the film A Powerful Noise which highlights the stories of three women who are persevering through severe living environments.
Adrienne Washington reports that during the Tweet-a-thon "NCM Fathom will donate 10 cents for each Tweet – up to 50,000 Tweets – to CARE, which helps 65 million people in 70 countries become self-sufficient but focuses on women and children, who disproportionately suffer from poverty." A Powerful Noise will premiere March 5th in theaters across the nation in celebration of International Women's Day on March 8th.
At See Jane Do we love a good story. We want to the share the stories of everyday extraordinary women we've interviewed with as many people as possible, so… we've been getting friendly with Facebook. According to iStrategy over half of the Facebook users are women. And yes, we've taken to tweeting on twitter.